THE FIRE'S JOURNEY COMPLETE SET Eunice Odio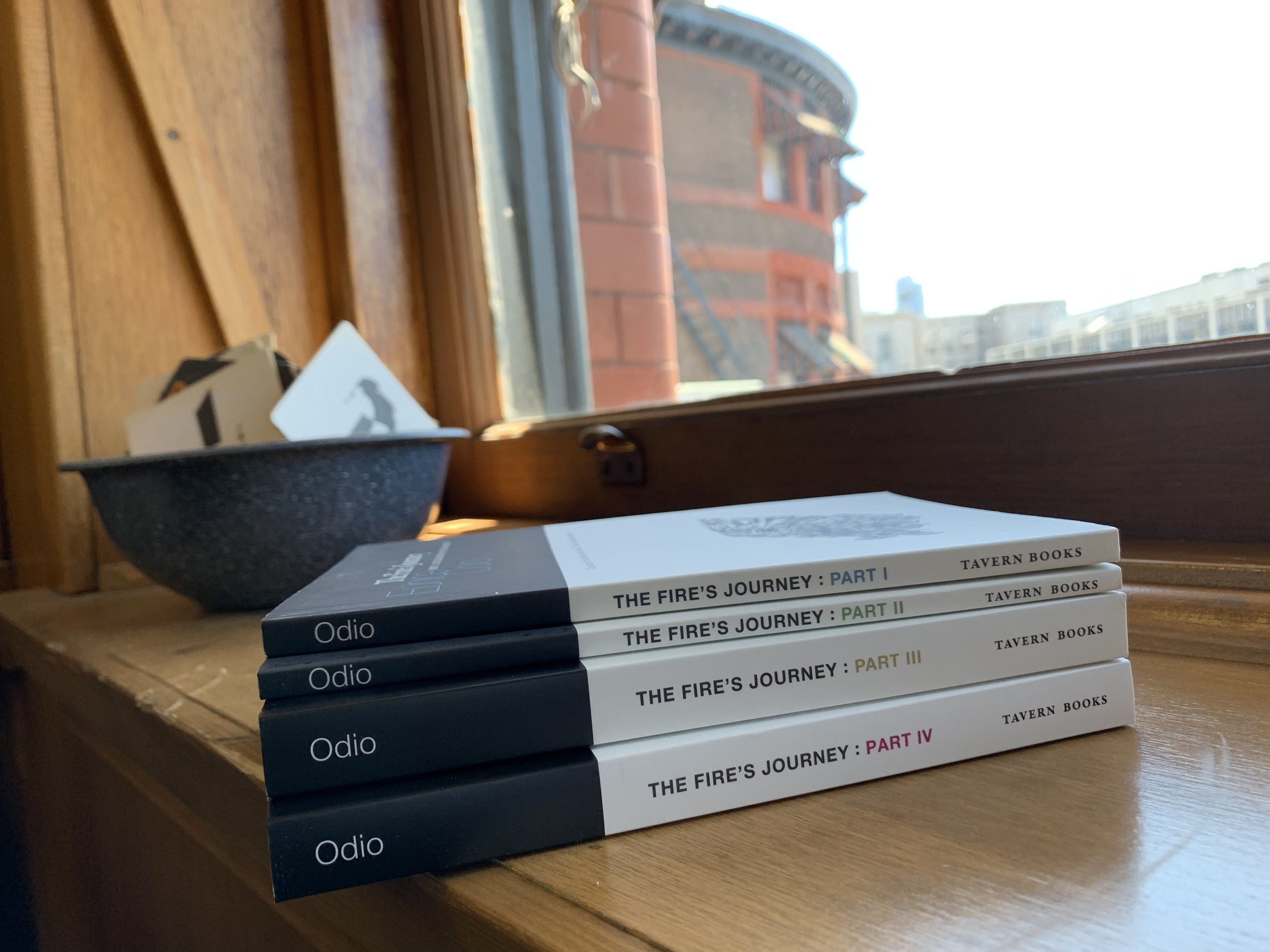 THE FIRE'S JOURNEY COMPLETE SET Eunice Odio
Translated from the Spanish by Keith Ekiss with Sonia P. Ticas and Mauricio Espinoza. Contributions by Cristina Herrera Mezgravis.
"The cardinal virtue of Eunice Odio's works is their exceptional quality, immersed in a captivating and evocative atmosphere that rewards sensitive souls with inner experiences that open up into wide horizons. Her masterpiece, the magnificent metaphysical poem El tránsito de fuego, is one of the greatest works of poetry of all time."
—Peggy von Mayer Chaves
Now available for the first time in an English-language translation, The Fire's Journey comes as a set of four beautifully designed volumes in paperback or hardcover formats. Receive a discount when you purchase the complete set:
PAPERBACK SET: $50
($68 value)
HARDCOVER SET: $80
($120 value)
About the Book
At long last, the series is complete! Since 2012, Tavern Books has been releasing volumes of The Fire's Journey, an origin story of epic proportions by Costa Rican poet Eunice Odio (first published in 1957 as El tránsito de fuego). A much-neglected masterpiece of 20th-century Latin American poetry, the poem imagines the world as the word of God. Using a mixture of surrealism, narrative, and dialogue, the story follows the journey of Ion, the poet-god who enters the universe to battle the Void, the force of chaos that threatens to cast the world into darkness. Drawing on traditions from Genesis to Paradise Lost, Odio's The Fire's Journey is a poem about the sacred power of language and the fate of the poet in the world.
About the Author
Eunice Odio (1919-1974) is considered the leading Costa Rican poet of the twentieth century. She traveled and lived throughout Central America and the United States before settling for much of her life in Mexico City. In addition to her poetry, she was the author of short stories and numerous political and cultural essays. Her complete works were published by the University of Costa Rica in 1996.
To purchase individual volumes in the series, please select from the following:
Part I: Integration of the Parents
104 pages | 5.5 x 7.5 in. | ISBN-13: 978-1-935635-23-9 (paperback) | ISBN-13: 978-1-935635-26-0 (hardcover)

Part II: Creation of Myself
72 pages | 5.5 x 7.5 in. | ISBN-13: 978-1-935635-48-2 (paperback) | ISBN-13: 978-1-935635-49-9 (hardcover)

Part III: The Cathedral's Work
216 pages | 5.5 x 7.5 in. | ISBN-13: 978-1-935635-69-7 (paperback) | ISBN-13: 978-1-935635-82-6 (hardcover)

Part IV: The Return
208 pages | 5.5 x 7.5 in. | ISBN-13: 978-1-935635-90-1 (paperback) | ISBN-13: 978-1-935635-91-8 (hardcover)